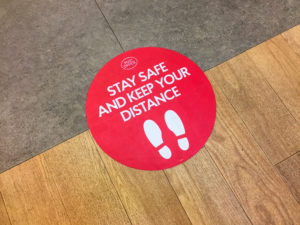 The COVID-19 pandemic has changed many aspects of our lives, including our focus on infection control. If you need dental care after weeks in quarantine, you'll probably be looking for a "safe dentist near me" specifically. Thankfully, your Winthrop dentist has implemented several additional safety measures to safeguard your health while you receive the dental treatment you need. Find out how they're helping you practice social distancing when you come in for your appointment during COVID-19.
Virtual Waiting Room
Even as the country slowly begins to reopen, it's important to remember that practicing social distancing is still the best way to protect yourself from the coronavirus. To put more space between patients, your dentist is utilizing a "virtual waiting room." This means that when you arrive to the practice, you can check in from the comfort of your car. Then, when your dental team is ready for you to come inside, you can bypass the reception area and go directly to your treatment room. Not only does this limit how many people are in the building at one time, but it minimizes your exposure to other patients.
Changes to the Reception Area
When you enter the practice, you'll notice that there have been some changes made to the reception area. Barrier tapes and covers have been placed over many of the chairs to remind patients to stay at least six feet apart. You'll also hear the low hum of new HEPA air filters that have been placed throughout the office. While no HEPA filter has been tested against COVID-19, these filtration systems are adept at removing a wide variety of small irritating or harmful particles from the air. You can breathe easy knowing that the air inside your dental practice has never been cleaner.
New Plexiglass Barriers
COVID-19 is spread through infected respiratory droplets. To hinder the movement of any dangerous airborne particles, clear plastic barriers have been installed. These new fixtures are made of durable plexiglass and placed strategically throughout the office. Just like all the other items found in the common areas, like doorknobs, countertops, and light switches, they are thoroughly disinfected every hour to ensure there are no lingering particles.
Facilitating social distancing within their practice is one of many ways your Winthrop dentist is maintaining a safe and germ-free environment. If you need to visit them for dental care after weeks in quarantine, you can rest assured knowing that they are taking every precaution to keep you and your smile healthy during the COVID-19 pandemic.
About the Practice
Brooks Dental is a family-run practice that has been serving Winthrop, MA and the surrounding communities since 1959. They have always been committed to the health and safety of their patients, staff, and community, which is why they are proud to offer a wide variety of dental services using the latest dental technology. To add peace-of-mind to the excellent dentistry you've come to expect, they have added several additional precautions to their ambitious infection control protocols. If you have any questions or concerns, they encourage you to reach them via their website or at (617) 846-1811.