Invisalign – Winthrop, MA
Clear Aligners to Correct Misaligned Smiles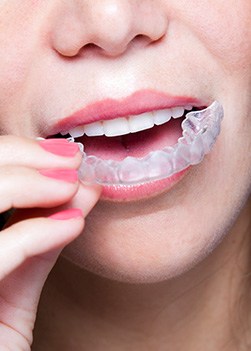 Have you always wanted to have straighter teeth? If you were to rate your smile on a scale of 1 to 10, would 9 or 10 be your honest answer? At Brooks Dental, we can help you reach your perfect smile with Invisalign wireless, metal-free braces. The average treatment time is about 12 months, and your friends and co-workers will be unaware that you are straightening your teeth. Call Brooks Dental today to schedule your free smile evaluation!
Why Choose Brooks Dental for Invisalign?
3D Imaging Technology for Accurate Treatment Plans
Orthodontist Available on Staff
Affordable Payment Plans Available
How Invisalign Works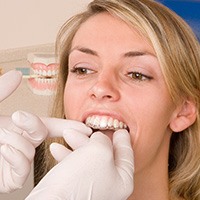 Invisalign is the virtually invisible method to straighten your teeth without conventional metal braces. With Invisalign, a custom-molded set of transparent, removable aligners will progressively reposition your teeth. This technology is more comfortable and convenient that traditional braces.
What is the Invisalign process? First, we use 3-D computer imaging to design a comprehensive treatment plan. This allows you to preview the final positioning of your teeth before you start treatment. Yes, you will see your future smile before treatment begins.
Then, a lab will create a series of aligners to realign your teeth. You will wear the aligners for at least 20 hours every day, removing them before eating, brushing, flossing, or special occasions. You'll change aligners every two weeks until your smile is straight and beautiful. Typically, you will visit us every six weeks for progress reports.
Indications for Invisalign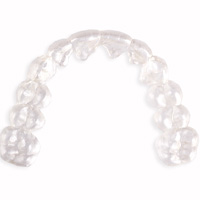 What problems can Invisalign fix? Nearly anything that traditional braces can! As long as your issues are mild or moderate, chances are that Invisalign can be utilized to straighten your smile without the use of brackets and wires.
Crowded Teeth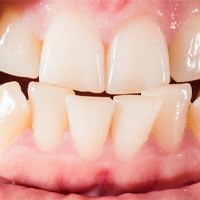 At first glance, it may seem impossible to straighten teeth that don't seem to fit within the arch, but Invisalign puts gentle force on the teeth, guiding them to their ideal alignment.
Gaps Between Teeth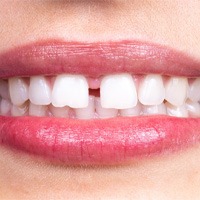 Teensy gaps between teeth are necessary, but larger gaps can provide the perfect place for bits of food, plaque, and bacteria to build up. Invisalign clear aligners can close these spaces to keep plaque accumulation to a minimum.
Bite Alignment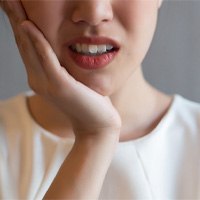 The way your upper and lower teeth fit together matters because when you chew, your bite determines how well you can grind up food for digestion. It also plays a role in how quickly certain teeth wear down. A properly aligned bite ensures that you can chew your food efficiently and hold onto your natural teeth for as long as possible.
The Benefits of Invisalign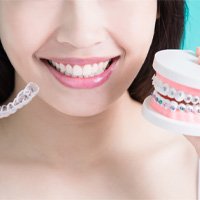 Unlike traditional braces, the clear aligners are comfortable, do not affect your speech, and can be removed when brushing your teeth or eating at your favorite restaurant. In addition, patients do not experience the mouth abrasions commonly caused by metal and wires, and Invisalign aligners are easy to keep clean.
Plus, while straightening with Invisalign with Brooks Dental, you will receive free home whitening as well. Now that's a reason to smile!
How Much Does Invisalign Cost?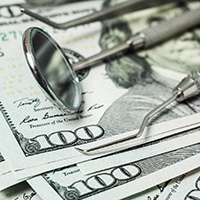 Every treatment is completely personalized, so the cost of Invisalign in Winthrop varies from patient to patient depending on their unique goals and needs. During your consultation, we'll need to evaluate several factors in order to provide an accurate estimate as well as a clear idea of what your results will look like. Our team will be happy to work with you to find a payment solution that works for you and fits within your budget. If you're ready to learn more, give us a call today !
Factors that Affect the Cost of Invisalign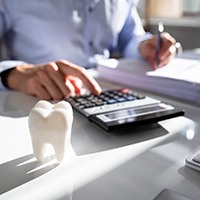 The condition of your unique smile and what you'd like to accomplish will of course influence the price of Invisalign. A few of the most important factors that will determine your end cost are:
The complexity of your case: Generally speaking, the more severe your case, the more expensive the treatment. For instance, closing one gap between teeth will be less costly than addressing major crowding, and straightening one row of teeth will be less expensive than treating both rows.
The length of your treatment: The Invisalign process uses a series of clear aligners, so naturally, the more aligners you need to address your orthodontic issues, the higher the cost of your treatment will be.
Your compliance during treatment: Invisalign comes with a lot of freedoms, but it also comes with a lot of responsibilities. If you don't follow instructions for how often to wear your aligners or take care of them, you could end up increasing the length and price of your treatment.
Invisalign VS DIY Aligners: Which Costs More?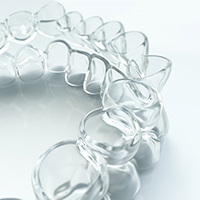 If you're interested in a straighter smile, you may have been tempted to try mail-in aligners like the DIY aligners. However, while these services may initially be less expensive, they could easily cost you much more time, money, and hassle in the long run! These kits offer little to no oversight from a trained professional, which means plenty of key factors can go wrong at any point. From unspotted oral health issues to improperly fitting aligners, many patients who try out these cheaper orthodontic services end up with issues that are worse than when they started!
Instead, put your smile in the experienced hands of our team here at Brooks Dental. We'll be with you every step of the way to answer your questions and ensure that your treatment goes as smoothly and comfortably as possible.
Does Dental Insurance Cover Invisalign?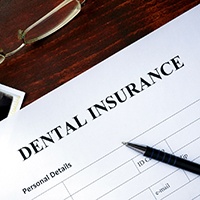 Some dental insurance polices offer partial coverage for orthodontic services, but they don't always include Invisalign. During your initial consultation, we can review the details of your specific plan to help you better understand what is covered. We're happy to check your benefits and file claims on your behalf at no additional charge.
Options for Making Invisalign Affordable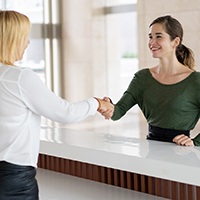 Dental insurance isn't your only option for paying for Invisalign! If you don't have dental insurance, or if you are unsatisfied with your coverage, we are pleased to offer flexible financing options through CareCredit. This third-party financer offers a variety of payment plans with low- to no-interest rates. These plans can help break up the cost of your Invisalign treatment into smaller, more manageable payments that fit into your monthly budget.
Invisalign FAQs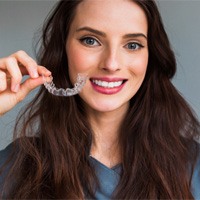 Choosing to straighten your teeth with Invisalign can feel like an important decision. At Brooks Dental, we want you to know your smile is in qualified, compassionate hands, which is why we encourage you to bring any questions you may have with you to your consultation . To help us be as efficient as possible, we've answered some of the most common ones here for convenience. Please read the information below, but don't hesitate to ask us if you need further information or clarification.
How Long Does Invisalign Take?
Your treatment timeline may differ from another patient's simply because you each have a unique set of teeth. In fact, the amount of time you need for Invisalign depends on how many aligners you need, how severe your misalignment is, and how well you follow our instructions. The average treatment time is usually about 12 months with 18 months being on the high side. After we examine your smile as it is currently, we can give you a more accurate timeframe and let you know what you can expect.
What Happens After Invisalign?
When treatment is complete and you have achieved the final results, we will give you a retainer, a clear oral appliance, to wear in order to hold your teeth in position. After a certain time, you can switch to wearing it only while you sleep. It's important to keep wearing your retainer so your teeth don't shift back to their former alignment. You also need to return to our office regularly for checkups so we can make sure your teeth stay perfectly straight.
Can You Eat with Invisalign?
While you have the aligners in your mouth, you are not allowed to eat or drink anything other than water. The clear plastic can become scratched, damaged, or discolored if you do. Plus, bits of food can get stuck in the aligners, potentially leading to infection or decay. Although you may not eat with the aligners in, you can certainly take them out briefly, giving you the freedom to eat basically whatever you'd like. After you've finished eating, you need to brush and floss your teeth and then put the aligners back in.
How Do I Clean My Invisalign?
If you want to have healthy, cavity-free, straight teeth by the time you're finished with Invisalign, you need to keep your aligners clean. This entails gently brushing your aligners in the morning, at night, and after you eat. Doing so limits the amount of plaque buildup and keeps the aligners perfectly clear. If you are interested, Invisalign sells cleaning crystals that can also help you control oral bacteria and discoloration.