Tooth-Colored Fillings – Winthrop, MA
Your Invisible Solution for Cavities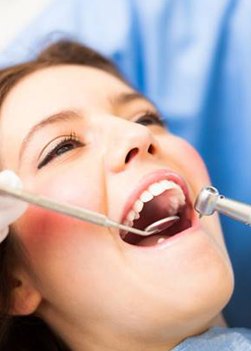 Tooth decay. It starts out small, but it can quickly spread and cause problems if left untreated. But in the past, when you got a cavity, your best option was amalgam fillings, leaving an obvious, unattractive silver blob on your tooth. Luckily at Brooks Dental, we use the most advanced treatment techniques and materials available to bring you better results. That's why we offer tooth-colored fillings to restore your tooth's strength, health, and beauty after tooth decay.
Why Choose Brooks Dental for Tooth-Colored Fillings?
A Team of Dental Professionals with Decades of Expertise and Skill
Advanced Technology to Aid in Diagnosis and Treatment
Same-Day Emergency Appointments Available
What does a cavity look like?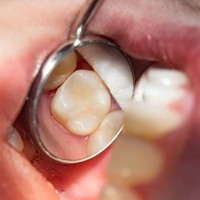 To the untrained eye, some of the early signs of a cavity can be difficult to spot, but here are common indications that you have tooth decay:
Brown, black, or white staining on your tooth.
Visible holes or pits.
Tooth sensitivity to hot, cold, or sweet foods or drinks.
Mild to sharp pain when you bite down.
In many cases, one of our experienced dentists is the one who identifies your cavity before you notice the signs yourself.
What are the benefits of tooth-colored fillings?
Instead of the metal compound of mercury, tin, silver, and copper found in amalgam fillings, tooth-colored fillings consist of composite resin, a combination of dental plastic and fine ceramic particles. Composite resin is biocompatible and flexible, enabling it to bond very well to tooth structure. Because of these traits, tooth-colored fillings have the following advantages:
Natural-looking appearance. Composite resin can be shaded to match tooth enamel, meaning that the fillings blends in seamlessly.
More preservation of healthy tooth structure. Amalgam fillings require removing extra to ensure that they stay in place. Not tooth-colored fillings.
Additional protection from bacteria and sensitivity to hot and cold sensations. The metal-free materials and the tight bond seal help prevent future problems with the tooth.
How are tooth-colored fillings placed?
When you have a cavity and it is caught early enough in development, the process for resolving it goes as follows:
One of our dentists will apply a local anesthetic to numb that area of your mouth.
They will remove the infected portions of your tooth, ensuring that it is completely clean of bacteria and healthy.
We will then pick the shade of composite resin that most closely matches the color of your tooth.
They will put the resin into your tooth and sculpt into a natural-looking shape.
We will use a curing light to quicken the hardening process.
Finally, your dentist will perform any final adjustments to make sure your bite feels comfortable.
In one simple appointment, you can go from having tooth decay to being back to complete oral health.
To help you overcome tooth decay and keep your smile happy, healthy, and beautiful, come to Brooks Dental! Our dedicated team can provide the compassionate, experienced dental care you need. Contact us for an appointment today!