About Our Dental Office
Families and friends in Winthrop, East Boston, and Revere know Brooks Dental as a place where they can find quality comprehensive dental care from a trusted team of professionals. For the past 30+ years, Dr. Howard Brooks, Dr. Barry Brooks, and the entire staff have been dedicated to building healthy, confident smiles. Keep reading to learn more about us, our values, and the exceptional level of care you can expect to receive when you visit our state-of-the-art dental practice.
Quality Dentistry Runs in the Family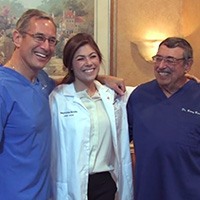 Dr. Barry Brooks began Brooks Dental in Winthrop back in 1959. Little did he know that he had just begun a long legacy of exceptional dental care. The day his son, Dr. Howard Brooks, decided to pursue the same profession, it made complete sense to Dr. Barry, who had always noted his son's skill in working with his hands.
Upon graduating from the Boston University School of Dental Medicine, Dr. Howard joined his father at Brooks Dental in 1987 to continue the tradition of excellence in dental care. Dr. Howard Brooks applied similar principles while providing a modern approach by offering the latest advancements in dental care. The two have since worked side by side, providing high-quality cosmetic and general dental services.
And the legacy continues, as Dr. Howard's daughter Dr. Stephanie has recently joined the family practice. Everyone here at Brooks Dental is happy to have a third generation of the family on the team.
Comprehensive Dental Services You Can Count On
Our #1 mission is to provide our patients with outstanding dental care in a comfortable, calm, and supportive environment. We offer a wide range of dental services under one roof for patients of all ages. Whether you need a basic checkup, a cleaning, or a more complex procedure, such as dental implants or orthodontic treatment, we can accomplish it all.
Our treatment areas include:
Preventive dental care through regular hygiene and early detection. Preventive care works to stop problems like tooth decay and gum disease from developing. Patients of all ages should receive a checkup and cleaning at least every six months, and additional preventive treatments like dental sealants and topical fluoride can provide extra protection against cavities.
Restorative dental care to help get your smile back on track after tooth decay, injury, or disease gets in the way. Our services range from dental implants for tooth loss to basic fillings and dental crowns to treat significant tooth decay.
Cosmetic dentistry helps ensure healthy teeth look their very best. Treatments such as teeth whitening lift stains from the surface of teeth, while porcelain veneers masks flaws altogether. Most adults can benefit from some aspect of cosmetic dentistry.
Endodontic treatment , also known as root canal therapy, can rescue severely decayed or damaged teeth.
Contact Us Today!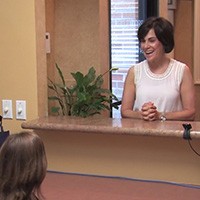 Now that you know more about us, we would like to invite you to request an appointment. Your healthy, long-lasting smile depends on regular care from a dentist you trust -- and we can't wait to welcome you into our extended dental family.