Dentist- Winthrop, MA
Get to Know Dr. Stephanie Brooks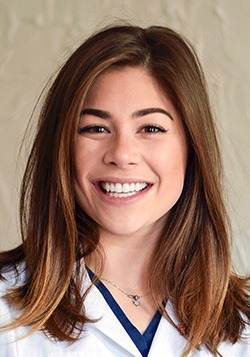 Our dental office is very excited to welcome a third generation to Brooks Dental—Dr. Stephanie Brooks! After spending her childhood literally growing up around dentistry, she couldn't help but carry on the family tradition of serving people's smiles. She's eager to take everything that Dr. Barry and Dr. Howard have learned over the decades and use it to provide a truly world-class level of care! To start getting to know Dr. Stephanie, read on below.
Why Dr. Stephanie Became a Dentist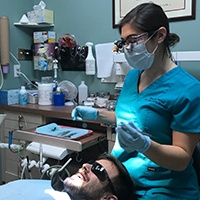 Dr. Stephanie had a very inspiring mentor and role model to look up to throughout her childhood and young adulthood—her dad, Dr. Howard! She loves to help others in tangible ways, so she always knew she wanted to do something in the healthcare field. She also enjoyed the idea of having so much one-on-one time and personal interaction with both her patients and coworkers.
She considers herself to be a very outgoing and warm person, and dentistry allows her to utilize these traits on a daily basis. Being a general dentist also enables her to continually see the same faces over the course of many years, helping her foster real connections, which she believes is the true beauty of the dental profession. Additionally, she has always been a highly organized and routine-oriented person, and she knew that dentistry would best accommodate this kind of lifestyle.
Where Did You Study Dentistry?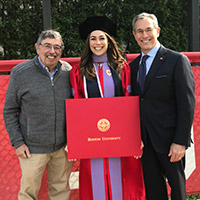 After receiving her undergraduate degree from Franklin & Marshall College, Dr. Stephanie graduated from the Boston University Goldman School of Dental Medicine at the top of her class (summa cum laude). During that time, she was also inducted into the National Dental Honors Society, Omicron Kappa Upsilon.
To help continually grow her knowledge and skillset, she is currently an active member of the American Dental Association and the Massachusetts Dental Society. Among many other subjects, she has aspirations to take continuing education courses in implant dentistry so she can place and restore implants in the near future.
What Do You Do Outside of Dentistry?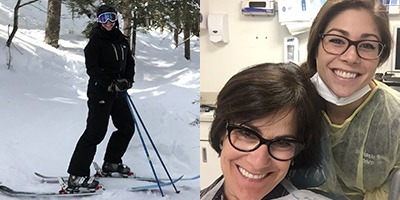 Away from the office, Dr. Stephanie has a passion for working out - running, lifting weights, and doing yoga. She also loves to ski in the winter and spend time at the north shore beaches during the summer. She has a black cat named Stella who likes to keep her very busy as well.