Traditional Braces – Winthrop, MA
Your Path to a Straighter, Healthier Smile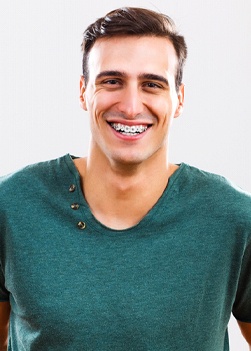 When you think about orthodontics or straightening teeth, what's the first thing that comes to mind? In all likelihood, you picture metal brackets with wires. This treatment has been used for many decades and continues to be one of the most popular orthodontic options. At Brooks Dental, we're proud to have Dr. Julianne Bruno, who is a highly trained and qualified orthodontist, on our staff to offer expert treatment to our valued patients. If you are interested in learning more about traditional orthodontics for you or your child, give us a call at our Winthrop office!
Why Choose Brooks Dental for Traditional Orthodontics?
Treatment for Patients of All Ages
On-site Orthodontist
Affordable Financing Available
How Traditional Braces Work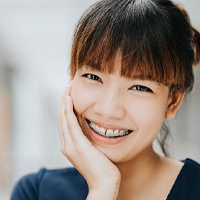 Like Invisalign, braces put pressure on the teeth to gradually shift them into a straighter position. Unlike Invisalign, with traditional braces metal brackets are attached to the front of the teeth. A metal wire connects the brackets, and tiny rubber bands are placed over the brackets to hold the wire in position. Then, we adjust the wire to slowly and gently force the teeth into ideal alignment. You may experience some mild discomfort afterward, but it subsides after a few days. Periodically, you'll return to our office for another adjustment.
Benefits of Traditional Braces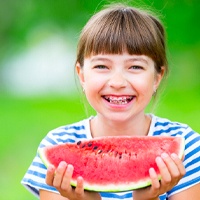 Although the brackets and wires aren't as subtle as Invisalign, traditional braces have many advantages, including the following:
Effectiveness for nearly all cases. Braces can correct even severe misalignment.
Easy compliance. You don't have to worry about misplacing or losing your braces because they're attached directly to the teeth.
Affordability. In most cases, traditional braces cost less than Invisalign, and this treatment is covered by more insurance plans than Invisalign.
How to Be Successful with Braces
In order to have a straight, healthy, and beautiful smile at the end of treatment, you need to follow our instructions. Here are some examples of the things you can do to ensure successful results:
Attend all your check-in, adjustment appointments.
Make sure you brush and floss your teeth daily, preferably after each time you eat.
Avoid eating sticky foods like gum, gummy candy, or dried fruit.
Stay away from hard foods that may dislodge a bracket or the wire such as popcorn or uncut apples or carrots.
Manage any discomfort after adjustments through eating soft foods and taking over-the-counter pain medicine.
Contact us right away if a bracket comes loose or the wire pokes out.
Understanding the Cost of Traditional Braces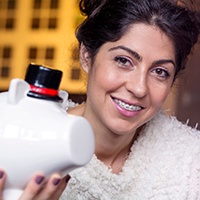 Before you start any treatment, you likely want to know how much it will cost. Unfortunately, we cannot provide a general, one-size-fits-all estimate because the price depends so much on your individual situation. However, once Dr. Bruno has had the chance to examine your mouth, she can give you a clearer idea of the cost and answer any other questions about your specific case. We can then also discuss various methods of payment, making your perfectly straight smile a reality.
Factors That Affect the Cost of Traditional Braces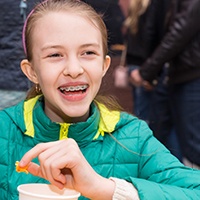 At Brooks Dental, we don't charge the exact same fee across the board. After all, no two smiles are exactly the same. The cost will vary based on how severe your misalignment is. The more work required to straighten teeth, the higher the cost. In addition, if you are not compliant with treatment, eat something you shouldn't, or skip your adjustment appointments, the overall price will go up. That's why it's important to stick to the treatment plan Dr. Bruno creates for you.
Professional Braces vs. "DIY" Braces: Which Costs More?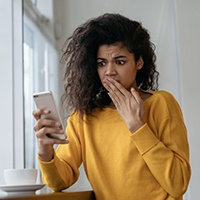 Although TikTok and YouTube videos can show you amazing things you can do on your own, they have also introduced the idea that you can move your teeth on your own. However, this decision comes with huge risks. In fact, an attempt to straighten your smile can result in even worse alignment or losing teeth altogether!
The safest and most cost-efficient way to achieve the smile you want is to work with a trained professional. Dr. Bruno understands how teeth need to be moved and how to adjust braces so you end up with a beautiful, healthy, perfect smile.
Does Dental Insurance Cover Braces?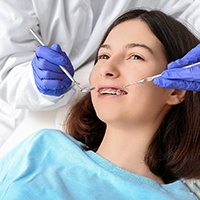 Although there are some exceptions, most dental plans include partial coverage for orthodontic care. This means you can expect your insurance to contribute a good portion of the overall cost. Keep in mind that, if you have the same plan for many decades, it will cover the cost of treatment only once in your lifetime. In other words, insurance will usually pay toward straightening your teeth one time—so make it count by choosing Brooks Dental!
Options for Making Braces Affordable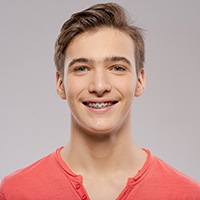 Other than using dental insurance benefits, our team provides another way to ease the financial burden of treatment—namely, financing. We can guide you through the application process and help break up the total into smaller monthly payments that are easier to handle than one-lump sum. If you have questions regarding how to pay for braces, don't hesitate to call us. Our front desk team is here to help!
Traditional Braces FAQs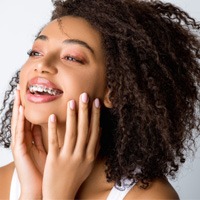 Although traditional braces have been around for a long, long time, you may have questions about this treatment before straightening your teeth. As a certified orthodontist in Winthrop, Dr. Bruno can address these questions, examine your current alignment, and let you know all about your alternatives so that you make the best decision for your smile. To get the process started, we've answered some of the most common inquiries below—be sure to read our responses and come prepared with your own questions for your consultation.
Am I Too Old for Braces?
Although braces are often associated with adolescents, patients of all ages can have traditional braces. Just keep in mind that it's usually easier and faster to make alignment changes at a younger age. During your consultation, we can discuss all your orthodontic treatment options, including braces or Invisalign, and help you find the solution that will help you meet your goals, stay within your budget, and achieve your best smile!
Can I Get Braces on Just My Top or Bottom Teeth?
In certain circumstances, it is possible to focus treatment exclusively on the upper or lower teeth. This approach can seem particularly appealing if only one arch seems to hurt or be causing the aesthetic problem. However, many times, both arches need to be realigned in unison to create a perfect bite. When you meet with Dr. Bruno, be sure to mention any questions or concerns you have about addressing your smile. We're happy to take as much time as you need to help you feel confident about your treatment plan.
How Long Do Braces Take?
No one else's smile is quite like yours, which means your treatment timeline may not be exactly the same. Timing may vary depending on the types and severity of alignment issues you have and how well you follow instructions. However, most patients who undergo orthodontic treatment with traditional braces need between two and three years to make all the necessary alignment changes. We can discuss the duration of your specific treatment plan at your consultation.
Do Traditional Braces Hurt?
Any orthodontic treatment, whether through braces or Invisalign, involves shifting teeth within the jawbone. As a result, you will likely experience some amount of soreness at some point during the process, especially in the beginning and when you have your braces adjusted. At first, as you become accustomed to the metal brackets and wires, your soft tissues may be slightly irritated, but over time, you'll find they won't bother your mouth.