Dental Implants – Winthrop, MA
Restoring Smiles to Last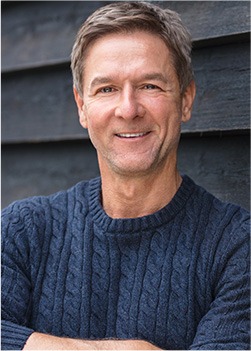 When people lose permanent teeth due to accident, injury, disease, or extraction, dental implants can be a secure, functional tooth replacement option. They're superior to many other choices because they restore function and comfort without having to involve other healthy teeth. Dental implants do not rely on neighboring teeth or other oral structures for support, thus maintaining the integrity of your overall oral health. Dental implants also have a high success rate and last for many years, as most patients maintain their implant restoration for life. Since implants are permanently, surgically anchored into the jawbone, it eliminates the inconvenience and discomfort of ill-fitting removable prostheses. After decades of use, they have a 95% or higher proven success rate in appropriately chosen cases. If you're interested in learning more about dental implant supported tooth replacement, contact Brooks Dental to schedule an appointment in our Winthrop dentistry practice. Our skilled dentistry team will review your current oral health and help you find the right dental restoration option to meet your needs.
Why Choose Brooks Dental for Dental Implants?
Surgical Dental Implant Placement & Restoration in 1 Office
All-Digital Technology for Superior Precision & Comfort
Replace Lost Teeth For Life
What are Dental Implants?
A dental implant is simply a small post, usually made of titanium, that's inserted surgically into the jawbone below the gum surface at the location of a missing tooth. As the surrounding bone and gum tissue bonds to the post, it forms a secure foundation onto which your restoration, or artificial tooth, is then attached and shaped to match your existing teeth.
Indications for Dental Implants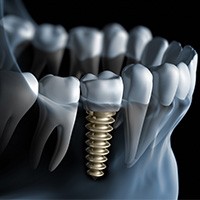 Patients with a wide spectrum of tooth loss, from a single gap to an entire arch, can often benefit from the transformative power of dental implants. Take a look below to see which situation best fits your unique circumstances:
Missing a Single Tooth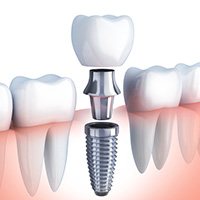 When replacing a single tooth, an all-porcelain dental crown can be paired with an individual dental implant for an outstanding result. This modern procedure is superior to anchoring a traditional dental bridge in place because it doesn't require the surrounding natural teeth to be negatively altered in any way.
Missing Multiple Teeth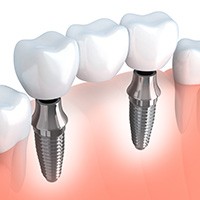 All-porcelain dental crowns can be fitted over multiple dental implants throughout the mouth. However, if we need to replace several missing teeth that used to appear in a row, an implant-retained dental bridge is another viable option. We will place two dental implants on either side of the gap and fit the prosthetic teeth into place over them, replenishing the space with a sturdy, lifelike replacement.
Missing All of Your Teeth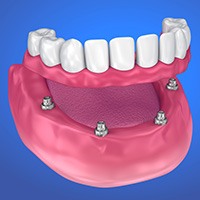 For patients with more advanced tooth loss, an implant supported partial or full denture may be recommended. Partials fill gaps in the smile, replacing numerous consecutive and nonconsecutive teeth, and can usually be supported by three to four implant posts. Full dentures replace an entire row of missing teeth, and they are usually anchored using four to six implant posts.
Am I a Good Candidate for Dental Implants?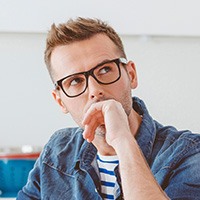 With innovations in the placement process and materials, more patients than ever before are good candidates for dental implant supported tooth replacement. Some limiting factors may include:
Poor general health
Inadequate bone structure
Diseased gums
Chronic oral health problems such as teeth clenching and grinding (bruxism)
Systemic diseases
Unhealthy habits such as smoking and excessive alcohol consumption
Implant location also impacts their success, i.e. lower front jaw implants may be up to 95% successful, while side or rear placements only 90% successful.
Technology Used for Dental Implants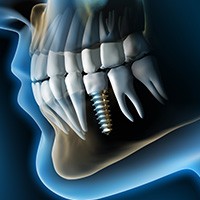 When placing dental implants, in order to ensure a successful procedure and a comfortable experience for a patient, we put together extremely detailed treatment plans beforehand. To do so, we utilize our 3D cone-beam scanner, which enables us to create three-dimensional X-ray images of the teeth, jaw, and surrounding oral structures, including the nerves and soft tissues. This allows us to personalize a procedure to a patient's dental anatomy as well as find the perfect locations for their new teeth.
Learn More About 3D Cone-Beam Imaging
What are the Benefits of Dental Implants?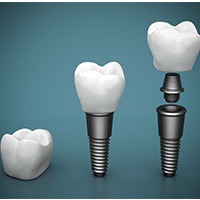 No tooth replacement option is right for every patient, but for those who choose to move forward with dental implant supported restorations, there are a number of unique benefits, including:
95% or higher success rate
Replacement teeth last three or more decades
Improved oral health with implants stimulating gums and jawbone
Greater tooth replacement stability, allowing for more varied diet
More natural looking and feeling results
Start-to-Finish Convenience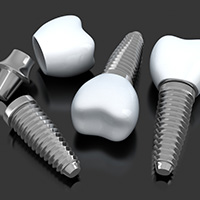 The dental implant procedure consists of several different components, including an initial surgery. While many general dental practices in the greater Winthrop community have to refer their patients to outside specialists for this portion of care, Brooks Dental is happy to now offer the expertise patients need right here in-office. This means that every stage of your smile transformation – from the initial consultation to the placement of finished, high-quality restorations – will be carried out by the same team you already know and trust.
Cost of Dental Implants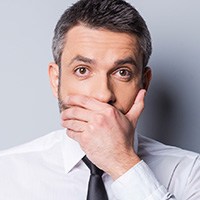 When you're getting started down the long road to implant supported tooth replacement, budgeting for the cost of care is essential. Before beginning treatment, we encourage patients to carefully assess each step of the process and discuss the cost of each phase of their tooth replacement plan. When you're prepared for the investment and have a plan in place, this can truly be an affordable treatment option that will last a lifetime.