Endodontics - Winthrop, MA
Repairing Teeth with Ease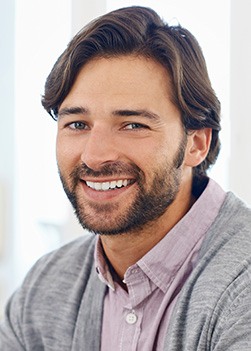 Endodontic therapy, more commonly known as root canal treatment, is performed on an unhealthy, infected nerve of a tooth. When decay or facial trauma results in an infection around the root of your tooth, endodontic therapy treats the problem before bacteria can cause further damage. If left untreated, the infection can spread and result in immense pain, oftentimes necessitating extraction of the tooth. Fortunately, today's modern technology makes it possible to perform root canal therapy in a way that is no less comfortable than the process of placing a filling.
Why Choose Brooks Dental for Endodontics?
Team of Knowledgeable Dentists & Specialists
Patient Comfort is Priority #1
Revolutionary Digital Technology
What is a Root Canal?
A root canal, also known as endodontic treatment, is a procedure that is performed on the damaged or infected nerve of a tooth. To prevent tooth extraction, our team at Brooks Dental can perform a root canal to alleviate serious pain caused by infection, providing you with healthy tooth again. This type of procedure involves removing the damaged area of the tooth, cleaning it, and sealing it with the appropriate filling to prevent further infection or injury.
Effective Root Canal Therapy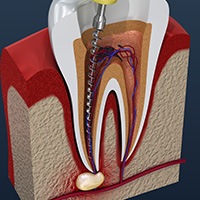 During root canal treatment, the affected area is anesthetized for optimal patient comfort. Any diseased tissue within the canal(s) of the tooth is removed and cleared of any sign of infection. The resultant cavity is then filled with a biocompatible material and sealed to prevent future damage. A custom crown is then placed over the tooth to restore full form and function.
How Do I Know if I Need Root Canal Treatment?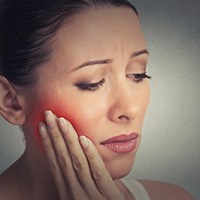 There are a variety of symptoms associated with an infection deep within the root of a tooth. The most common are:
Sensitivity to cold or hot temperatures
Pain when pressure is applied to a certain tooth
A persistent pimple/swelling on the gums
Swelling, throbbing, or a dull ache surrounding a particular area
Pain that radiates from the jaw up to the ear
Chronic bad breath
A tooth that grows darker (usually a dull gray)
Schedule Your Appointment Today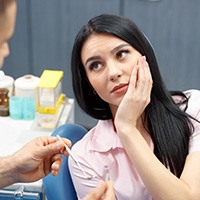 It is important to remember that not all root infections present with noticeable symptoms. This is why routine checkups with the team at Brooks Dental are so vital to continued oral health. If you think you may be suffering from a root canal infection, please do not hesitate to contact our dental office to schedule a visit with our team.