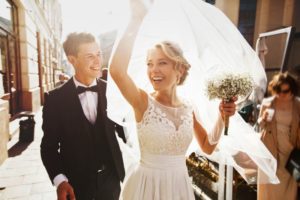 You've booked the band and ordered the flowers and the cake. You've selected the venue and hired the caterer. To say weddings require a lot of planning is an understatement. But you've been looking forward to this day for your whole life—you want everything to be perfect.
While you're making arrangements for the event itself, don't forget to get yourself ready for the spotlight. Your smile will appear front and center, and any discoloration could make it stand out in the wrong way. But how do you know when to schedule teeth whitening beforehand? Keep reading to find out!
How Long Whitening Treatment Takes
The time it takes to brighten your smile depends on which method you want to use. Over-the-counter whitening solutions require weeks or even months before you notice a difference. Professional take-home kits from your dentist take a full two weeks to complete treatment, but you should start seeing changes much sooner than that. For in-office whitening, the procedure is usually performed in about an hour.
You can select the approach you want to take based on convenience to your schedule and goals, and your dentist can provide expert recommendations for the solution best suited for you.
Why You Should Budget Time for Whitening Well in Advance
Even if you choose to have your teeth whitened in your dentist's office, you shouldn't leave this treatment to the last second. Although uncommon, some teeth don't respond to whitening gels, and you may need extra time to correct the discoloration through other treatments, if necessary.
If you do professional teeth whitening, your results can stay pristine for up to a couple of years. Many dentists recommend in-office whitening at least a month in advance. By taking care of treatment with plenty of time before your event, you can reduce last-minute stress and feel confident that your smile will look brilliant.
How to Keep Your Teeth White for the Special Event
Let's say you get your teeth whitened long before your wedding, but then you drink tons of coffee, eat tomato sauce or soy sauce, have lots of berries, and consume other staining substances. You may find that your results don't stick around as long as you hoped. Be smart about what you eat and drink, use a straw whenever possible, rinse your mouth with water after meals, continue brushing and flossing every day, and ask for touchups from your dentist if necessary.
In the end, when the special day comes, you don't want to be focused on making sure everything is perfect. When you take care of the details beforehand, including your smile, you can simply enjoy the moment and share it with the one you love most.
About the Practice
At Brooks Dental, our team finds great satisfaction in helping patients achieve the results they want, even if only correcting the coloration. Right now, we have a special offer of 50 percent off teeth whitening treatment when you refer a friend or family member to the practice. If you are interested in getting your teeth professionally whitened, you may contact Brooks Dental online here or by calling the office in Winthrop at 617-846-1811.