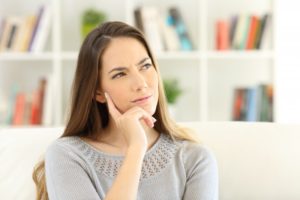 Like many others right now in this economy, you're watching every dollar. You don't have room in your budget for expenses that aren't worth the cost. So when you consider whitening your teeth, you have to choose between professional treatment with your cosmetic dentist or over-the-counter solutions.
Looking purely at the price, you can "save" money by going with the store-bought option; however, when you look at the quality of what you're getting, professional teeth whitening may offer the better deal. Keep reading to learn the difference between these choices and which one could be right for you.
How Do Teeth Become Stained in the First Place?
Understanding how teeth look yellow or dull can help you determine which option to try. Although tooth enamel is the hardest material in your body, it can have tiny holes or grooves, which allow staining and discoloration. Brushing and professional cleanings can help remove stains on the surface, but deeper-set stains require more powerful solutions.
How Does Teeth Whitening Work?
All teeth whitening treatments, whether in the office or over-the-counter, utilizes carbamide or hydrogen peroxide as the active ingredient. This bleaching agent penetrates the teeth's hard tissue and removes stains, making teeth appear whiter, brighter, and healthier.
When you purchase a whitening kit at the store, it usually contains about 10 percent peroxide. You either wear whitening strips or apply gel to your teeth, and then you repeat this treatment for a few weeks. Over time, you should notice that your teeth are a few shades whiter.
In contrast, professional whitening tends to have a more powerful concentration of peroxide, as much as 40 percent, which allows it to penetrate deeper into the tooth. Also, instead of having to do the treatment for up to 14 days, professional, in-office whitening is completed in just one appointment. With this type of whitening, you also see more dramatic final results, up to 8 shades brighter than before.
Which Type of Whitening Is the Better Value?
If you have the time and you only need to whiten your teeth by a few shades, over-the-counter whitening treatment may be the the most cost effective treatment for you. However, constantly buying these kits and touching up your teeth adds up over time all while giving you barely enough results to notice.
On the other hand, with professional whitening, you can enjoy having a clearly brighter smile for much longer than store-bought options. In other words, the quality and durability are well worth the extra cost.
Ultimately, you can make the choice that works best for you. Just remember that you get what you pay for. While store-bought whitening may cost less, it will also be less effective at brightening your smile. Take this into consideration so you love how your teeth look when treatment is done!
About the Practice
Since 1959, Brooks Dental has provided outstanding care for patients in and around Winthrop. Our dentists have years of clinical expertise and advanced training in cosmetic dentistry. Over the years, we've stayed up-to-date with the best innovations in dentistry, which is why we use Zoom! Whitening to revitalize our patients' smiles after discoloration. Could you benefit from professional teeth whitening? Contact Brooks Dental online or by calling the office at 617-846-1811 for an appointment today!