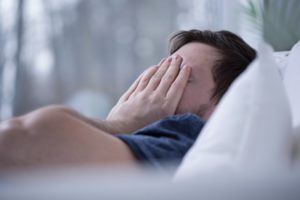 You sit straight up, gasping for air. Your phone says it's still the middle of the night, but you feel wide awake with a fast heart rate. Too soon, the alarm goes off to start the day. You feel as though you haven't slept at all, and your overwhelming anxiety kicks in right away. You have to get the kids ready for school and get to the office in time for an important meeting. Little stresses bother you more than they probably should, and you know it's going to be a rough day. Does this sound familiar?
You could have sleep apnea, a condition where the facial tissues block airflow, interrupting your breathing and causing your body to panic in order to resume breathing. Another likely side effect of sleep apnea is that your brain's activity is interrupted, affecting your mood and thinking patterns. But how could sleep apnea and anxiety be connected? Can you address both problems with one treatment? Read on to find out!
The Spiral of Anxiety and Sleep Debt
Although researchers have not found concrete proof that sleep apnea causes anxiety or vice versa, there is an obvious, undeniable correlation between the two. More than half of patients diagnosed with sleep apnea have some form of depression or anxiety or other mood disorder. Plus, a common symptom of anxiety is insomnia, which sleep apnea sufferers also often experience.
When you're unable to achieve deep, restful sleep, you enter what is commonly called sleep debt, which complicates your ability to cope with stress. On the other hand, feeling overly anxious can prevent you from relaxing enough to sleep peacefully throughout the night. Needless to say, they can aggravate each other!
Getting Out of the Spiral
It's difficult to say for sure that treating one problem will fix the other. However, it just makes sense—when you feel more rested, you can better control your mood and emotional reactions. By treating sleep apnea and getting higher quality sleep, your brain can better heal and process the stresses of the day. In some cases, seeking psychological help with anxiety is still necessary, but addressing sleep apnea could help make the situation better.
Fortunately, treatment for this serious condition can be quite simple. In most cases of sleep apnea, a qualified dentist can provide an oral appliance that opens the airway, allowing you to have uninterrupted sleep. As a result, you can feel better prepared to tackle whatever the day brings your way.
In the end, if you have sleep apnea and struggle with anxiety, it's worth the time and effort to address your sleep apnea so that you help to set yourself up for success in overcoming anxiety. It may not cure you from feeling anxious all the time, but it could reduce your symptoms and help you lead a more fulfilling life.
About the Practice
At Brooks Dental, our five dentists are concerned about more than just your teeth. We focus on your overall health as well, which is why we offer sleep apnea treatment through oral appliance therapy. Although CPAP machines are commonly prescribed for sleep apnea, we find that custom oral appliances are more comfortable and less imposing. To learn more about sleep apnea treatment, you can contact Brooks Dental and schedule an appointment online or by calling the Winthrop office at 617-846-1811.