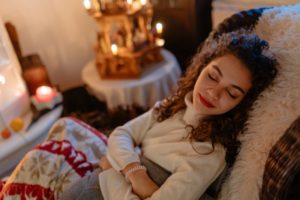 From shopping for the perfect gift to making everyone's favorite dishes, your stress levels may climb to an all-time high this holiday season. In this situation, quality sleep becomes even more important than usual. If you are dealing with sleep apnea during the holidays, you need to do everything you can to ensure that you and your partner are getting the rest you need to take on whatever comes your way. Here are some ways you can enjoy silent nights and fun-filled days ahead.
Prepare As Best As You Can
Are you driving to visit family? Are you hosting out-of-town family? Make a list and check it twice for everything you'll need to accommodate your plans. If you're packing, be sure to include your oral appliance. Without it, you could snore at night, disrupting you and everyone around you. Before you set out on a road trip, get plenty of sleep the night before so you aren't drowsy while you drive, and change drivers often enough to give everyone a break.
Maintain an Optimal Sleeping Environment
Sleeping in a strange bed can be a difficult transition, even for someone who doesn't have sleep-disordered breathing. Try to preserve as much of your normal sleeping routine and environment as possible. This could mean that you bring along your favorite pillow or blanket and go to bed around the same time as usual so that your body achieves close to the same amount of rest.
Be Flexible
Often, whether you're the host or the guest, you may need to be creative and flexible when it comes to sleeping arrangements. While a traditional CPAP machine isn't exactly convenient or easily portable, an oral appliance from your dentist allows you to breathe more easily, increasing your odds of a good night's rest, even if you're not in your own bed.
Be Active
Although the holidays come with plenty of chances to kick back and relax, try to stay active according to your abilities. Not only can physical activity be beneficial for your health, it can also help you sleep more soundly at night. If you can, play out in the snow, wrestle with the kids, go on walks—do what you can so that your mind and body are ready to drift off to sleep.
Enjoy the Moment
While you are awake, try to make the most of the time you have with your loved ones. This year has been rough, to say the least. Let yourself have some fun and celebrate with your family and friends. Live in the moment and enjoy being with those you love, even if the situation isn't perfect.
No matter what your plans are for the holidays, your sleep apnea doesn't have to stand in the way of your fun. You can continue to sleep in peace with a custom oral appliance!
About the Practice
Brooks Dental is proud to have delivered complete dental care under one roof to families in the community for more than 50 years. Three generations of Brooks dentists have received advanced training in all areas of general dentistry, including sleep apnea therapy. If you have untreated sleep apnea and want to discuss getting an oral appliance, you can contact Brooks Dental by clicking here.