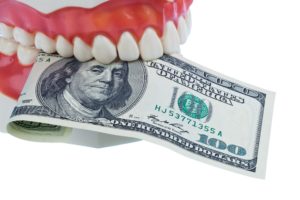 Dental implants in Revere are a long-term investment in your quality of life. As the only treatment to replace the entire structure of a tooth, you'll enjoy a variety of benefits that aren't possible using any other solution. Although you're excited to get started on your journey to a complete smile, Dr. Brooks understands you're concerned about their cost. While you might be tempted to choose the cheapest dental office, this could compromise the success and aesthetics of your new smile. Instead, it's better to focus on qualifications and experience. Dr. Brooks delivers the exceptional care you deserve while also providing cost-savings opportunities that won't compromise the viability of your smile.

How to Shop for Dental Implants
You've heard the saying, "you get what you paid for." Unfortunately, this can be true if you only focus on the price when choosing a dental office to rebuild your smile. Often, you will see a set price featured for the treatment, but this is rarely accurate. There are several factors that influence the cost, such as the number of teeth you're replacing and if you need any additional procedures, like bone grafting. The only way to determine how much you'll pay is with a consultation from an implant dentist in Revere.
When choosing a dentist, instead of focusing on the price, it is best to look at a dentist's qualifications and experience. Choose a dentist who has a long track record for success while also offering certain amenities to make the process a bit easier.
Dr. Brooks will perform the comprehensive consultation you need to determine if you're a candidate for the treatment. He will create a strategic treatment plan to replace your missing teeth. During your consultation, he will take the time to explain each phase of your treatment and the costs associated with it. On average, you can expect to pay for:
Initial consultation
Additional procedures
Sedation or anesthesia
Implant placement
Abutments and restorations
Paying for Dental Implants
Dr. Brooks provides competitive rates when providing his services. He works with his patients to find the solutions they need to achieve their oral health goals. As a highly trained implant dentist, he can handle each stage of the treatment from one location. This provides added convenience and peace of mind because you aren't referred to an unfamiliar location. Not to mention, this can also lower the costs.
Dr. Brooks will work with your dental insurance to reduce the amount you need to pay out-of-pocket. He accepts several payment options to keep your new smile within your budget, including third-party financing with CareCredit.
If you're ready to rebuild a radiant smile, contact our office today for your free consultation.
About Brooks Dental, P.C.
For over 30 years, Brooks Dental, P.C. has been dedicated to rebuilding healthy, confident smiles. We strive to provide exceptional dentistry through all stages of life. If you've lost teeth, we have the solutions you need to replace them, including dental implants. Contact our office today to schedule your free consultation.