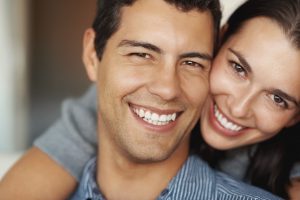 Revere orthodontics align smiles for great looks and lively teeth and gums. Consult Dr. Julianne C. Doyle for state of the art treatment and outstanding smile results.
Dissatisfied with how your smile looks? Worried about how crooked teeth affect your oral health?
Put those anxieties to rest with a Revere orthodontic consult at Brooks Dental PC.
Revere orthodontics fix smile problems
Both teens and adults benefit from Revere orthodontic treatment at Brooks Dental PC. Howard D. Brooks DMD and Barry M. Brooks DDS join their years of family dentistry experience to the expertise of Dr. Julianne C. Doyle, orthodontist, to give patients the well-aligned, vibrant smiles they deserve.  From initial consultation to planning to actual treatment, these caring dentists recommend and execute the best in traditional braces and clear Invisalign aligners, too.
Why bother with braces?
Plain and simple, Revere orthodontics help patients live healthier lives. Teeth that are crooked, gapped, close together improperly, and are crowded are more prone to dental decay and periodontal (gum) disease than straight smiles are.
The American Dental Association affirms that well-aligned teeth are much easier to keep free of plaque, food residue and their associated bacteria. Fewer bacteria mean fewer cavities, stronger tooth enamel and vibrant gums–in other words, a smile that lasts for decades.
The other advantage of orthodontic correction is more obvious. People with beautiful smiles exhibit more confidence and have better self–images–-great advantages in today's competitive society.
What's your reason for wanting braces? The Brooks Dental team will fully evaluate your needs and smile goals, offering you the best orthodontics around.
Traditional braces versus Invisalign
Dr. Doyle carefully evaluates her patients with an oral exam, x-rays and other imaging to determine what orthodontics would serve best.  In general, she uses traditional metal bracket and wire braces for more complex cases.
While traditional "hardware" is more obvious, it has the flexibility to treat a broader range of alignment problems. Once cemented in place, the wires and brackets guide teeth into better looking and functioning positions. While they present hygiene challenges and some dietary restrictions, traditional braces do the job well.
Invisalign clear aligners are removable, clear appliances. Well-suited for mild to moderate orthodontic problems such as overbite, tooth rotation and underbite, Invisalign aligners move teeth gently during a shorter treatment time than metal braces. Patients change aligner pairs as instructed by Dr. Doyle and take them out for brushing, flossing, meals and special occasions. Typical treatment time is 9 t0 18 months, with about a year being average.
What concerns you about your smile?
Is it bite, crookedness or some combination of how your smile looks, feels and works?  At Brooks Dental, the team offers a complimentary orthodontic evaluation. Find out what your teeth and gums truly need to be healthy and great looking, too. Contact the Revere orthodontist office today to find out what treatment will change your oral health and outlook for the better!