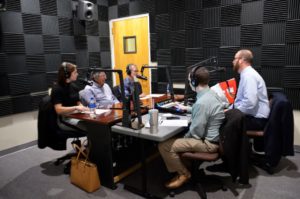 Do you enjoy listening to podcasts? Perhaps you listen to them as you do chores around the house, while you work out at the gym, or on your commute to work. Podcasts can be great resources for information and advice, entertainment, and motivation. We are excited to announce that all three generations of Brooks dentists recently participated in a podcast for Boston University, where both Dr. Howard and Dr. Stephanie attended dental school. During this podcast, they discuss running a family business, learning to adapt to the ever-evolving field of dentistry, and consistently delivering exceptional dental care to our patients. Before you listen to the podcast about your dentist in Boston, take a few minutes to learn more about each generation at Brooks Dental.
Dr. Barry Brooks
Brooks Dental was opened in 1959 by Dr. Barry Brooks, and he has been serving Winthrop individuals and families ever since. Over the years, he has established a legacy of excellence in dentistry that later generations strive to carry on to this day. We are fortunate to have Dr. Barry still involved in our practice even at age 87. In fact, he continues to see patients a few days a week!
Dr. Howard Brooks
After graduating from the outstanding dental program at Boston University in 1987, Dr. Howard Brooks joined his father in the practice, even though going into individual practice seemed to be the norm with his classmates. Because of his father's mentorship, Dr. Howard developed advanced skills in his clinical experience, becoming a trusted Boston dentist. Although he performed many dental services by hand in dental school, he has since learned to use more modern techniques and technology, such as cone beam scanners, digital crown milling, and digital X-rays, to improve our patients' experience.
Dr. Stephanie Brooks
As the newest addition to the Brooks Dental staff, Dr. Stephanie is no stranger to the characteristics that make a great dentist. In addition to honesty and clinical skills, she has developed empathy and good judgement so that she can put patients at ease and provide the care they need for a healthy smile. She appreciates the education she gained at Boston University, having her father and grandfather as mentors, and receiving the trust from patients right from the start.
Ultimately, all three of our dentists clearly share a passion for helping people and changing lives for the better. We hope that after you listen to the podcast, you'll see what makes Brooks Dental truly special. And we look forward to welcoming you into the family too!
About Brooks Dental
For more than 60 years, Brooks Dental has been helping patients in and around Winthrop. With three generations of dentists in the Brooks family, we have the perfect blend of old-fashioned, personalized care and state-of-the-art service. If you would like to listen to the podcast the Drs. Brooks participated in, you can click here. If you have questions for our dentists or would like to schedule an appointment with them, you can contact our dental office by calling (617) 846-1811 or clicking here.