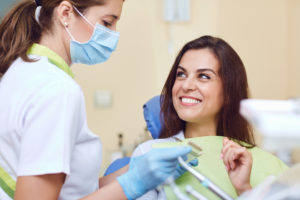 It's about that time again. Your six-month dental appointment is coming up. Although you like the fresh, clean feeling after your teeth have been professionally treated, you contemplate skipping this visit. You can go another six months between cleanings, right? Think again!
You've forgotten the other equally valuable reason for this routine appointment—the checkup. What is your dentist checking for? Why is early detection of oral issues important? How does a dental checkup go? Read on to find out!
Issues Your Dentist Is Looking for
You may be wondering what kinds of things your dentist is doing during a checkup and screening. To you, your mouth looks like any other, but your dentist has been trained to notice indications of trouble. They inspect your teeth for cavities, but that's not all! They are also on the prowl for gum disease, infections, and oral cancer. Unfortunately, these problems can develop quickly, which is why you should visit the dentist every six months at least. Some people need more frequent appointments to stay on top of advanced conditions like gum disease.
Early Detection Matters
In general, it's best to identify and treat major medical conditions, such as cancer, sooner rather than later. The same principle applies to oral issues as well. Oral cancer, for example, can be more easily treated and survived when it's caught in early stages of development. Later on, oral cancer has a much higher mortality rate.
Similarly, gum disease requires much less invasive treatment when it is still just gingivitis. If you wait to treat the problem, it can cause permanent damage to your oral structures, lead to tooth loss, and even worsen serious systemic problems like heart disease.
In short, early detection can save you—maybe literally!
How Early Detection Works
Unlike many other screenings, which can be invasive or uncomfortable, screening for oral cancer and checking for oral problems involves no pain whatsoever and is performed every six months. Your routine dental appointments include a thorough examination of your mouth, including your cheeks, gums, teeth, lips, neck, tongue, and other oral structures. This entire process usually takes just a few minutes, but it can help countless people catch issues before they become huge problems.
Although the appointment may seem routine or unimportant, staying current with your checkup and cleaning appointments is a great way to ensure early detection of oral problems. As a result, you can take care of issues as they arise before needing to resort to more extreme measures. So don't you're your checkup! Keeping this appointment could help you preserve your smile for many years to come!
About the Practice
Since the 1950s, Brooks Dental has helped individuals and families in the Winthrop community and beyond smile. From routine checkups and cleanings to more advanced care like dental implants, we offer comprehensive services for patients of all ages. Our dentists and specialists can resolve major problems, but we much prefer preventing them or treating them as early as possible. To schedule an appointment, you can contact our office by calling 617-846-1811 or clicking on our Contact Us page.