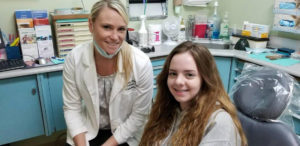 Brooks Dental is incredibly proud to have many experienced and caring dental professionals serving the community. We hope that as a patient, you get the chance to meet everyone responsible for providing high-quality dental care to Winthrop and the surrounding communities. As part of our recognition, we wanted to highlight an employee that we believe many patients may not be familiar with. Her name is Dr. Julianne C. Doyle!
Dr. Doyle is our orthodontist here at Brooks Dental. We hope that after learning a bit more about her story, you'll feel comfortable striking up a conversation the next time you see her! After all, dentistry isn't only about getting the affordable care you need. It's about building community and relationships that last a lifetime. Stay tuned for the end, as our office is excited to announce a special offer for patients considering orthodontic treatment in the future.
Brooks Dental (BD): What did you enjoy most about growing up in Florida?
Dr. Julianne (Dr. J):  I feel very lucky to have grown up in Florida not only for the amazing weather and the friendly and warm people, but also for giving me the opportunity to attend the University of Florida. It was an amazing experience and ultimately lead me to a career in dentistry.
BD: Did you have a favorite subject in school?
Dr. J: Music! Music is a huge part of my life. I recently got a new vinyl record player for my birthday and it's on every day in my house. My father was a classic rock musician and he shared his love of music with me since my early childhood. I focused mainly on singing, but I also played piano, violin, guitar, and flute.
BD: What are your hobbies outside of work?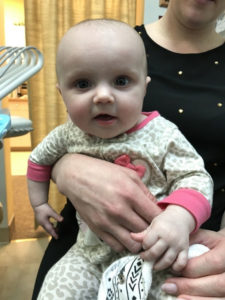 Dr. J: Outside of work, my favorite thing to do is spend time with my family, which includes my husband, my 6-month-old daughter, and my Australian shepherd, Apollo. Going to concerts is one of my favorite activities and I hope to share my love of music with my daughter. I'm also a huge foodie and a pretty adventurous eater. I'll try almost anything at least once. The most unusual thing I've ever eaten was Rocky Mountain Oysters. I won't be trying them again.
BD: What is your favorite dish to cook?
J: My favorite dish to cook are my meatballs with marinara (or "gravy" as my husband makes me call it). I get tons of compliments on my meatballs for how soft and flavorful they are. I taught myself how to make them and it's taken over 10 years to perfect the recipe.
BD: Any thoughts on superpowers you wish you had?
J: If I were a superhero, I would want to have the power to read minds. But only when I want to, not all the time.
BD: If you could only take three things with you on a desert island, what would they be?
J: If I was stuck on an island, I would bring my husband, my daughter, my dog, and something to play music on.
BD: When did you realize that dentistry was the career for you?
Dr. J: I decided to go into the dental field during my 2nd year of college. I found a part-time job working in a molecular microbiology lab in the periodontal department of the UF College of Dentistry. During this time, I met professors, students, and residents and started getting a glimpse of the dental field. I had never considered it as a profession before, but the more I learned about it, the more I realized it was the perfect fit for me.
BD: Why choose dentistry, and eventually, orthodontics?
Dr. J: I wanted a career in the medical field where I could work for myself and have time for a family. Dentistry made sense. It wasn't until I was in my first year of dental school when I started learning about orthodontics that I found a career I was truly passionate about.
BD: What's your favorite thing about working at Brooks Dental?
J: My favorite thing about working at Brooks Dental is the team I have the privilege of working with. Everyone is very positive and upbeat, which makes the day so enjoyable. I think that translates to our patients as well and they can tell how much fun we have together.
Take Advantage of Our Ortho Specials