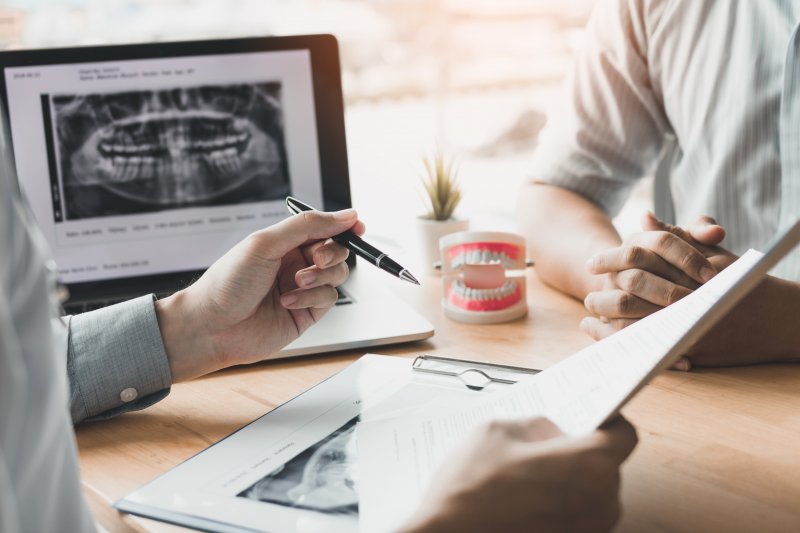 Are you missing one, a few, or an entire arch of teeth? Then you are not alone. In fact, 120 million Americans are missing at least one tooth. Fortunately, thanks to advanced technology, high-quality materials, and the latest techniques, tooth replacement options today are safe and natural-looking – leaving you to just determine which alternative is best for your budget. However, it is crucial to remember that although the upfront dental implant cost is higher, they may save you money in the long run. Read on for four factors to consider when making your decision!
4 Factors to Consider When Weighing the Cost
Upon reviewing the upfront price of dental implants and dentures, the latter is more cost-effective. However, it is important to consider the total cost. With that being said, here are a few factors to consider:
Lifespan – While dentures can last anywhere between 5 to 15 years, dental implants can last 20+ years with proper care. Plus, both partial and full dentures require routine maintenance for adjustments, which is not included in the initial cost.
Convenience – Since dentures require special care (like soaking them at night and applying special adhesives), patients should consider years of commitment to time-consuming maintenance.
Bone loss – Dental implants are the only tooth replacement option that can effectively stimulate your jawbone to prevent deterioration. Since dentures don't have the same ability, patients may experience unintended consequences, like a change to your facial structure.
The social aspect – While dental implants provide patients with a strong biteforce and unparalleled durability, dentures can move when you chew, laugh, or kiss, making social interactions uncomfortable.
4 Additional Benefits of Dental Implants
While the cost benefits are substantial enough to stand alone, dental implants are the superior choice for other reasons as well. In fact, patients who opt for this popular tooth replacement solution can enjoy perks like:
Custom-made implants are designed to seamlessly match the size, shape, and color of each missing tooth.
A strong biteforce.
No extensive food restrictions.
Long lifespan.
If you are missing one or more teeth and currently deciding which tooth replacement option is best for you, make sure to consider both the upfront and total cost. That way, you can pick the right treatment for your smile and wallet!
About the Practice
For over three decades, Brooks Dental has built a reputation on top-notch dental care and world-class service provided by a team of friendly, knowledgeable professionals. Whether you need a routine cleaning or to rebuild your smile with dental implants, you can have peace of mind knowing you are in the best hands. If you are missing one or more teeth and considering dental implants, don't hesitate to visit their website or give them a call at 617-846-1811.