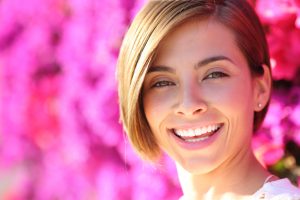 Are you satisfied with the appearance of your smile? Is there something you'd like to change or enhance about your smile? Do you feel confident about smiling freely? Perhaps you have teeth that are stained or discolored. Maybe your teeth are crooked or overlap. Whatever the case may be cosmetic dentistry can help! There is a wide range of cosmetic dental options available from whitening to straightening your teeth. Your cosmetic dentist in Revere can help you improve and enhance your smile.
What is Cosmetic Dentistry?
Any dental treatment that is designed to improve the appearance of your smile is considered a cosmetic procedure. That being said, many cosmetic procedures are also restorative procedures as well. For example, crooked teeth or a misaligned bite may detract from the appearance of your teeth, but it also affects your oral health. Teeth that overlap put you at a higher risk for periodontal disease and fractures, while a misaligned bite can contribute to a jaw disorder known as TMJ. By straightening your teeth you are also improving your oral health.
Cosmetic dentistry include procedures such as:
Bonding to repair chips and fractures
Porcelain Veneers to restore damage or discoloration
Invisalign to straighten misaligned teeth
Dental Implants to replace missing teeth
Whitening to brighten the color and appearance of your smile
Crowns to repair teeth that are decayed or damaged
What are the Benefits of Cosmetic Dentistry?
Besides adding beauty to your smile, many of the procedures will also give you improved function. Did you know that porcelain veneers could actually strengthen your teeth because they're bonded directly to your natural tooth structure? Dental implants replace a missing tooth with the closest replica of your natural tooth available. Cosmetic dentistry can deliver the smile you've always dreamed of, while also giving you optimum function!
At Brooks Dental, our talented team of doctors specializes in cosmetic dentistry and they've been helping patients achieve the smile of their dreams for decades. If you've been considering changing the appearance of your smile, start with a consultation with our team. You may be surprised to find that there are multiple options available and our doctors are happy to answer your questions and help you select the procedure that best suits your needs.
Whether you want a quick boost to your smile, or you want to make bigger changes the team at Brooks Dental is here for you. When you work with our doctors, you can rest assured that you're working with the premiere cosmetic dentists in East Boston. The result will be a smile that you'll be proud of! Contact our office today to schedule your consultation.