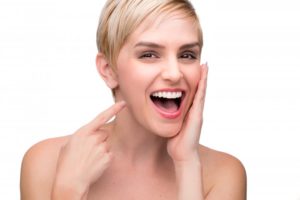 Teeth whitening is one of the most popular cosmetic treatments offered by dentists around the country! It's not common when a patient is excited to jump in the dental chair and receive treatment, but before you do, your cosmetic dentist in Winthrop wanted to help you better prepare.
Before you achieve your dream of a whiter smile, your dentist will give a full breakdown of what to expect and how to best prepare.
How to Prepare for Treatment
While teeth whitening treatments can make your smile whiter, it doesn't mean it will necessarily clean your mouth or teeth. For this reason, it's worth it to get a professional cleaning right beforehand first. This way, your dentist can confirm that your mouth is healthy and capable of receiving whitening without any issues. Your dentist will always address oral health issues, such as tooth decay or gum disease first, before performing any cosmetic treatments.
Patients who have tooth sensitivity may also want to purchase an anti-sensitivity toothpaste before seeking treatment. While newer whitening systems work to mitigate sensitivity during the process, using an anti-sensitivity toothpaste for a few days prior to your treatment could prove helpful. These products contain special formulas that strengthen your tooth enamel and reduce sensitivity to whitening, as well as hot or cold foods and beverages.
What to Expect During Treatment
When you visit your dentist for teeth whitening in Winthrop, you'll experience Zoom! Whitening technology to make your smile between seven and nine shades whiter. To start, your dentist will place a shield inside your mouth that pushes your lips, gums, and tongue as far away from the whitening solution as possible. This will make sure that only your tooth enamel is exposed and reduce irritation caused by the whitening agents.
Next, your dentist will apply the bleaching agents directly to your teeth, followed by switching on the system's lamp. The lamp is designed to activate the agents on your teeth, allowing it to penetrate your enamel and reach the discolored dentin underneath. The process takes about an hour and occurs in three 15-minute sessions. The more sessions you do in a row, the whiter your results will be.
How Long Your Whitening Will Last
Depending on how you treat your teeth, your whiter smile can last for several months or a few months before needing retreatment. If you want to make it last as long as possible, take note of the following tips.
Avoid all tobacco products
Keep a strict oral care routine
Avoid foods and beverages that are highly pigmentated
Use a whitening toothpaste a few days a week to remove surface stains
Are you ready to get the smile of your dreams and remove stubborn stains? Schedule an appointment with your dentist today to get started!
About the Author
Dr. Howard D. Brooks earned his DMD degree from the Boston University School of Graduate Dentistry. He's also a member of the American Academy of Cosmetic Dentistry, allowing him to stay up to date on the latest advancements and techniques for cosmetic dental treatments. To learn more about his practice, contact him through his website.