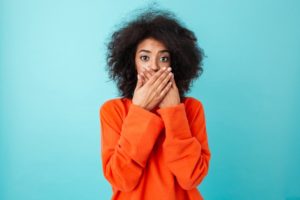 You dream of having a beautifully straight smile, and you know that Invisalign is a subtle treatment that can get the job done. Unlike traditional braces, the clear plastic covers your teeth completely, gently shifting your teeth into alignment without impairing your appearance or ability to eat whatever you'd like.
But unless you continue to care for your teeth, you could end up with a lot of cavities during or after your Invisalign treatment! Keep reading to learn how this is possible and what you can do to prevent cavities from interfering with reaching your dreams!
How You Can Get Cavities While Wearing Invisalign
Normally, your mouth has a few built-in ways to fight decay. When you eat meals, your mouth produces more saliva, which helps to rinse your food away from your teeth. This extra saliva also helps neutralize acids from food, drinks, or bacteria that can erode tooth enamel.
With a plastic tray that somewhat acts as a shield on your teeth, it can seem illogical that you could develop cavities. However, you do not wear the aligners while you eat; you remove them when you have food or drinks other than water. If you do not brush and floss your teeth afterward and before putting the aligners back in, you can actually trap bits of food and plaque within the plastic trays next to your teeth. Unfortunately, your saliva cannot reach inside the Invisalign aligner to help clear out some of these damaging substances.
As a result, acidic foods and decay-causing bacteria have direct access to your tooth enamel, creating cavities.
How You Can Prevent Cavities during Invisalign Treatment
As tempting as it may be to leave your aligners in your mouth while you eat, you need to take them out. The plastic can become damaged or even break because it was not designed to withstand the forceful grinding required to chew food. Be sure to remove your aligners and put them in the case before every time you eat.
In addition, when you undergo Invisalign treatment, it is not a vacation from your normal oral healthcare routine. In fact, during this time, you need to be even more rigorous in maintaining your smile. Instead of only brushing and flossing in the morning and at night, you need to do so after each time you eat or have a beverage other than water.
In the end, you can finish Invisalign treatment with a perfectly straight and healthy smile. You just need to follow your dentist's instructions and maintain your oral health. Fortunately, it doesn't require anything special—just the same healthy habits you already should be doing. By making smart choices while wearing your aligners, you can achieve your dream smile!
About the Practice
At Brooks Dental, we proudly offer Invisalign treatment for patients who want to straighten their teeth. Our dentists are dedicated to meeting your needs and exceeding your expectations when it comes to service and clinical care. If you would like to learn more about Invisalign, you may contact the Winthrop office by calling 617-846-1811 or visiting the Contact Us page here.