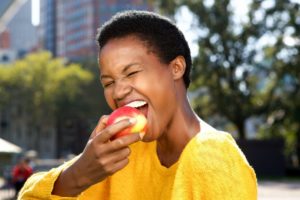 "All done," your dentist says as your whitening treatment finishes. You look in the mirror and can't believe your eyes—your teeth are significantly brighter! You love how the teeth whitening turned out, and you want to make it last.
Then, you feel a hunger pain in your stomach. What can you eat that won't discolor your brand-new smile? You know that certain foods can stain your teeth, but are there ones that can help your teeth hold onto their whiteness? Keep reading to learn about six of them!
Water
Whether you've just had your teeth whitened or not, water is the best beverage you can have by far. Especially after eating or drinking other things, a few swigs of water can help to rinse away debris and remaining traces that could discolor your teeth.
Strawberries
Even though strawberries are typically a deep red, they are actually very helpful for preserving your white smile. Unlike other colorful berries, they contain an enzyme called malic acid, which naturally whitens tooth enamel.
Apples
Compared to many other fruits, apples have a relatively rough texture. They require quite a bit of chewing, and the flesh can actually help scrub your teeth as you chew.
Cauliflower
In recent years, cauliflower has become a more appreciated vegetable—and for good reason. Not only is cauliflower most commonly white, but it also is very fibrous. As a result, it causes your mouth to salivate to help break it down for digestion. Saliva, like water, neutralizes cavity-causing acids and helps to clear out surface stains.
Celery
Celery, along with many other fibrous vegetables, needs to be well ground up before swallowing, which means you need to do a lot of chewing. Your mouth, therefore, makes plenty of saliva. Plus, the celery scrubs your teeth as you bite and chew it!
Cheese
A powerful mineral to strengthen your white tooth enamel is calcium. While many think of milk as the best source of calcium, cheese may be a better choice after you've gotten your teeth whitened. Not only can you benefit from the calcium intake, but the cheese texture causes your mouth to produce more saliva, washing away more staining substances.
Foods to Avoid
If you are trying to make your whitening results last as long as possible, you'll want to stay away from the following staining foods and drinks:
Coffee
Red wine
Berries (e.g., raspberries, blackberries)
Dark soda
Hard candy (e.g., lollipops)
Chocolate
In the end, you may not be able to keep your teeth perfectly pristine forever, but by including these fresh fruits and vegetables and other foods in your diet, you can slow down the discoloration process and enjoy your bright smile longer!
About the Practice
Brooks Dental has been serving the Winthrop and surrounding communities since 1959. The general dentists on staff don't only share a last name but also a passion for helping patients of all ages smile with confidence. We are proud to offer teeth whitening either in-office or with take-home whitening kits. If you are interested in learning more about teeth whitening, you can contact Brooks Dental online or by calling 617-846-1811.