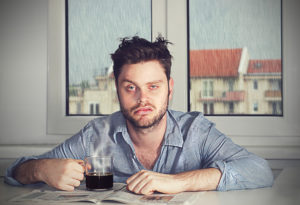 In the middle of the night, you gasp for breath. Your heart is pounding, and you feel a little sweat on your forehead. You tell yourself you've had a nightmare and try to go back to sleep. Then, in the morning, you feel as if you didn't sleep at all. Does this happen to you somewhat frequently? Do you regularly feel fatigued throughout the day?
Scientists estimate that one in 15 American adults has sleep apnea, which equates to about 18 million people. Unfortunately, about 80 percent of these people are undiagnosed and untreated. But is this a big deal? Does insufficient sleep really affect other areas of your health? The answer is definitely yes! If your body doesn't get enough quality rest at night, don't be surprised if it starts to affect your days. Your sleep impacts so many other functions. Read on to learn how untreated sleep apnea can have an negative effect on you.
Safety Concerns
With inadequate sleep on a consistent basis, you are bound to feel tired and unable to respond as quickly as you normally would. This can lead to an increased risk of car accidents or other safety issues. In fact, studies have found that drivers with sleep apnea are five times more likely to have an accident than healthy sleepers.
High Blood Pressure and Heart Disease
When your sleep apnea wakes you up in the middle of the night, your body experiences stress. After all, your breathing has stopped, and that stress signal helps your body start normal breathing again. During a sleep apnea episode, you have a spike in blood pressure, and your brain wakes you up. Unfortunately, over time the stress on your heart becomes more consistent, even while you're awake, drastically increasing your risk of cardiovascular events like a heart attack or stroke.
Weight Gain
Although weight gain can be a contributing risk factor for sleep apnea, it can also be a result of this condition. With less energy and motivation, exercising and leading a healthy lifestyle can become more difficult, contributing to weight gain, which comes with a host of other problems for your body.
Inability to Focus or Remember
Every night, your brain uses the time you sleep to transfer short-term memories from that day into long-term memories. If your brain has to stop this process multiple times, you may find it difficult to remember certain things. In addition, you may become so distracted by your fatigue that you can't focus on what you're doing. In certain careers and situations, struggling with memory and focus can be devastating and dangerous.
Moodiness or Depression
Getting poor sleep can put anyone in a bad mood, and if it happens regularly, your mental health can suffer. Mood swings and depression are common symptoms for those who have untreated sleep apnea, which can in turn interfere with your relationships with others.
Although it may feel simpler to do nothing and leave your sleep apnea untreated, you have to think of your overall well-being. Getting quality sleep is essential and can help you enjoy a healthier, happier quality of life.
About the Practice
Since 1959, Brooks Dental has served the Winthrop community and helped patients of all ages smile with more confidence. Today, we are proud to offer advanced services, including sleep apnea therapy with oral appliances to help those with this serious condition. Our dentists are dedicated to continuing education so that they can bring patients the best possible care. If you think you could have sleep apnea, you can schedule an appointment with Brooks Dental online or call our office at 617-846-1811.