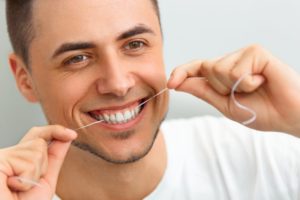 During the quarantine, you're doing your best to practice social distancing and stay home. You're working from home, ordering your groceries online, and avoiding direct contact with other people as much as possible. Now is not the time to take unnecessary risks, which is why many businesses, stores, and practices are temporarily closed. Although your emergency dentist in Winthrop is still available for urgent treatment, you want to avoid putting you or their staff at risk of infection. In this blog post, you'll learn how you can prevent dental emergencies during the quarantine and keep your smile healthy until some normalcy returns.
Brush Thoroughly
You likely already know that you should brush your teeth every day, but are you doing a good job of it? Do you spend a full two minutes brushing twice daily? Although normally you may rush through this routine as quickly as you can, now more than ever, you need to take your time. Two minutes allows you to be thorough and clear off plaque from your teeth's surfaces, preventing decay.
Floss Every Day
Even with two minutes of brushing, not all surfaces can be cleaned. The tight spaces between your teeth can harbor plaque and bacteria, eventually leading to gum disease and cavities. That's why you need to floss at least once per day. This simple habit goes a long way to helping you avoid a painful dental emergency down the road.
Use a Fluoride Mouthwash
As a main ingredient in your toothpaste, fluoride is an essential mineral that strengthens tooth enamel. In fact, it's so beneficial that fluoride is added to most public drinking water sources. To give your teeth extra protection during the pandemic, you can use a fluoride mouthwash once or twice every day. That way, your enamel will be more able to withstand eroding acids.
Limit Sugary Foods and Drinks
While you're at home all day, it can be tempting to snack on yummy treats more often. However, sweet foods and drinks only promote the growth of harmful bacteria in your mouth. Instead of juice, sports drinks, or energy drinks, drink water throughout the day to help rinse your mouth. Instead of candy, cookies, or even crackers, try eating an apple or carrots. Your smile, and your waistline, will thank you for it later.
Don't Use Teeth as Tools
Your teeth are the strongest material in your body, and they are capable of exerting great force to bite and chew food into smaller bits for digestion. However, they weren't meant to cut plastic packaging or pry something open. Trying to use your teeth in these ways puts your teeth at risk for cracks, chips, and breakage. Take the time to find the right tool you need so that you can keep your teeth out of harm's way.
While you're unable to see your dentist in Winthrop for routine preventive care, it is imperative that you take extra care of your smile. Following these easy steps can help you steer clear of a dental emergency during this turbulent time.
About the Practice
At Brooks Dental, we are proud to have three highly skilled general dentists, a periodontist, and an orthodontist on staff. Although temporarily closed because of the pandemic, Brooks Dental is still available for emergency patients. We will post updates on our website about our office availability and hours as we receive information from local and national authorities. If you need an urgent appointment, you can contact our dentists by clicking here.