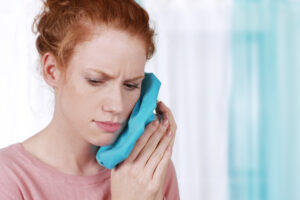 You never plan for a dental emergency to happen. It mostly comes up seemingly out of the blue, but it can stop you in your tracks with severe pain and impaired oral function. However, even if the pain is excruciating, some patients hesitate to make an emergency appointment with their dentist simply because they don't know what to expect.
To put your anxiety to rest, here is how dental emergencies go when you work with your dentist.
Helpful Call
When you're in the middle of a dental emergency, your first move is to call your dentist's office. They can put you on the schedule as soon as possible. This alone can be comforting, as you know your pain will soon be over, but the receptionist's compassionate, friendly demeanor on the phone can help put your mind at ease.
Perhaps you're not even sure you have a dental emergency. This phone call can connect you with your dentist, giving you valuable advice both for coming in and how to deal with the situation until you arrive.
Same-Day Appointment
In many dental emergencies, time is critical. For instance, dental pain can make every minute feel significantly longer, and a knocked-out tooth has a limited time when it can be saved. Fortunately, many dentists offer same-day appointments and won't wait to see you until it's convenient for them. Your trusted team wants you to feel comfortable again quickly.
Relieving Pain
If you have a severe toothache or your injury is causing you substantial pain, your dentist will give you a local anesthetic to numb the area. Within minutes, your discomfort should subside. This anesthetic is temporary, and further treatment is necessary, but getting you out of pain is your dentist's first priority.
Examination and X-rays
Most of the time, your dentist will need to take X-rays of your teeth to see how extensive any decay or damage is. With this image, and through a thorough examination, they can diagnose the problem and formulate a plan to fix it.
Emergency Treatment
The exact procedure needed to address your emergency will depend on the cause behind it. For badly decayed and cracked teeth, which often cause toothaches, root canal treatment entails removing the infected structure and the nerve and allows you to preserve much of the natural tooth. For a knocked-out tooth, a splint can hold it in position while the connective tissues heal.
In total, your treatment may take more than one appointment to complete, because you may require custom restorations, but you should leave the dentist's office with a plan in place and with basically no more pain.
Knowing a little bit more about what will happen can give you the courage to start the process and move forward with emergency dental treatment. Your dentist doesn't want to see you suffer—they're here to help you, so take advantage of their expertise!
About the Practice
Brooks Dental has a long history of helping people in the Winthrop area with dental emergencies. In fact, the practice has been open since 1959. Dr. Howard Brooks and Dr. Stephanie Brooks are joined by Dr. Julianne Bruno and Dr. Andrea Shah, an endodontist, and together they have the experience and training to handle dental emergencies of all kinds. If you have a toothache, dental injury, or another emergency situation, contact our office online or call 617-846-1811 immediately.