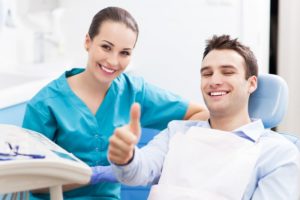 You know the drill. You sit in the special reclining chair, and the dentist asks you to open wide. You know they inspect every tooth for signs of cavities, but did you know that there are plenty of other things your dentist does while they're looking inside your mouth? It's true! Dental checkups involve much more than you think, so keep reading to find out what else your dentist does during these appointments.
Examining Your Gums
When you think of a dentist, you think of them as a professional who deals with teeth. However, soft tissues can be just as important as hard tooth enamel.
The gums, for instance, are a major indicator for oral health, as well as overall health. In fact, those with gum disease are significantly more likely to suffer a heart attack or stroke. That's why your dentist inspects your gums for signs of infection at every checkup appointment.
Performing an Oral Cancer Screening
The idea of undergoing an oral cancer screening may sound scary, but the truth is that it takes only a couple of minutes, and most of the time, you don't even realize it's happening!
Your dentist quickly looks around at the soft tissues in your oral cavity for any unusual red or white bumps as well as any other atypical patches of tissue. To be as thorough as possible, they may hold your tongue and move it from side to side to see the back of your mouth more clearly.
This screening is important to get on a regular basis because oral cancer is much easier to treat when it's identified in early stages. Frequent checkups ensure that it is caught sooner rather than later, increasing the odds of survival.
Checking Your Salivary Glands and Tonsils
Did you know that your dentist is concerned about the amount of saliva in your mouth? Saliva neutralizes acids in your mouth and helps to wash away bits of food and bacteria. If your salivary glands are not producing enough, your risk for cavities, gum disease, and other problems increases drastically.
Although your dentist isn't a medical doctor, they can tell from looking at your tonsils whether you have tonsilitis or possibly other medical problems.
Looking at Your TMJ and Bite
Your jaw joint, called the temporomandibular joint or TMJ, is one of the most complex in your body. So it makes sense that it should be examined on a regular basis to make sure it's functioning properly. Fortunately, they can check your TMJ by having you open and close your mouth. They also often ask if you are having any jaw pain. This quick examination ensures that any problems with the TMJ are found and addressed as soon as possible.
How your upper and lower teeth align with each other matters. Your bite alignment can determine how efficiently you're chewing your food as well as affect how certain teeth wear down. By examining your bite, your dentist makes sure your smile can last for the long haul.
When you consider how much your dentist accomplishes in one appointment, it becomes clear why this visit is so important to have on a regular basis. Your oral and overall health are worth protecting by going to these routine semi-annual appointments, so make sure you're on track and schedule your checkup today!
About the Practice
Brooks Dental has a long history of serving patients in the Winthrop area and beyond. Starting with Dr. Barry Brooks in 1959, the practice has grown to include Dr. Howard Brooks and Dr. Stephanie Brooks, as well as specialists on staff. We believe that the best approach to take for oral health is to prevent problems from occurring the first place. If you would like to schedule a dental checkup at Brooks Dental, you may contact us online or by calling the office at 617-846-1811.