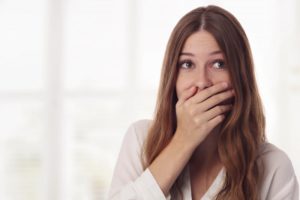 Are you on TikTok? Of course, you are! It's a great way to share content and get seen by millions. Many life hack or DIY videos have gone viral; in some cases, these videos are helpful, but in others, such as those involving people's teeth, they can cause real harm. Here are three TikTok trends you should not try at home!
Attaching Vampire Teeth with Nail Glue
As Halloween season approaches, many enthusiastic costume wearers want their look to be as realistic as possible. However, using nail glue to adhere vampire teeth to yours is not a smart move. TikTok users have shown not just the process of gluing the teeth into place but also the panic they feel when the teeth don't come off easily. That's because nail glue is similar to super glue. Eventually the TikTok users were able to get the vampire teeth off, but this type of glue can remove enamel, permanently damaging your natural teeth.
Solution: If you want to have scary-looking teeth for your costume, follow the instructions that your vampire teeth come with. They will be much easier to remove after your done with them and won't harm your real smile. For something more permanent, you should visit with your dentist, who can safely apply veneers or give you the look you want.
Using a Nail File to Shorten Teeth
Some TikTokers have filmed themselves filing down their teeth to make them more even. Although this hack may seem attractive, you should never do this! The tooth structure they are filing off is lost forever, and with less protective enamel, their teeth could become sensitive to hot, cold, or sugary substances. The potential damage could also cause discomfort and make it more difficult to eat or drink.
Solution: To make your smile appear more even, you need to talk to your cosmetic dentist, who is trained to reshape teeth using safe methods. They can help you achieve a perfect set of pearly whites without endangering your teeth's function.
DIY Whitening
On the internet, you can find plenty of do-it-yourself suggestions that people have tried to whiten their teeth from home. Lemon juice, charcoal, baking soda, and hydrogen peroxide are among the most commonly used ingredients for DIY whitening. But you need to know that these solutions can be dangerous. Lemon juice is very acidic, which means it erodes enamel and weakens teeth against decay-causing bacteria. Meanwhile the abrasiveness of charcoal and baking soda can cause enamel to wear down. Hydrogen peroxide is an ingredient used in many professional whitening gels; however, the kind of hydrogen peroxide you can buy from the store can irritate the gums or your skin with prolonged exposure.
Solution: You should only whiten using products that were designed for teeth. If you want to brighten your smile from home, there are whitening strips and gels available at stores. For more dramatic results, talk to your dentist. They use solutions that are specially formulated to whiten teeth without damaging them or causing sensitivity.
Ultimately, your smile is irreplaceable, and you shouldn't follow everything you see on TikTok. Don't put your teeth and gums at risk by following what some random stranger does. Turn to a trained professional who can help turn your smile dreams into a reality.
About the Practice
At Brooks Dental, we have the necessary training and expertise to meet all our patients' needs. From routine checkups to advanced cosmetic cases, we can handle everything you want done to have a beautiful smile in-house. If you have questions about dental trends, or if you would like to schedule an appointment, you can contact Brooks Dental online or by calling the office.